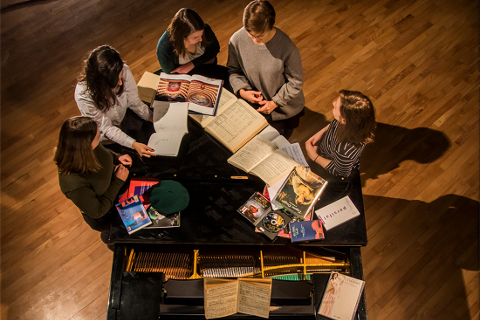 Not least because of the importance of Richard Wagner for Bayreuth, one focus of the University of Bayreuth lies in the field of musical theatre. Within the canon of humanities disciplines, the Department of Music & Theatre is dedicated to musical topics with a basic orientation towards performative phenomena and issues. Subjects include musical theatre, theatre, the performative and performing arts, and music, as well as all intermediate forms and genres.


The department is made up of the research group for Theatre Studies with a special focus on music theatre (led by Prof. Dr. Anno Mungen), a professorships of Musicology (Prof. Dr. Kordula Knaus), and a Theatre Studies professorship (Prof. Dr. Wolf-Dieter Ernst). With its bachelor's programme Music Theatre Studies and its combined master's and doctoral programme in Music & Performance, the department offers a wide-ranging study profile. In addition, the department, in cooperation with the Department of Media Studies, supports the bachelor's programme in Theatre & Media Studies, in which Musicology can be chosen as a minor subject.
More information about Music & Theatre at the University of Bayreuth can be found on the official website of the department.
Prof. Dr. Wolf-Dieter Ernst
Theatre Science
Prof. Dr. Kordula Knaus
Music Science
Prof. Dr. Anno Mungen
FIMT